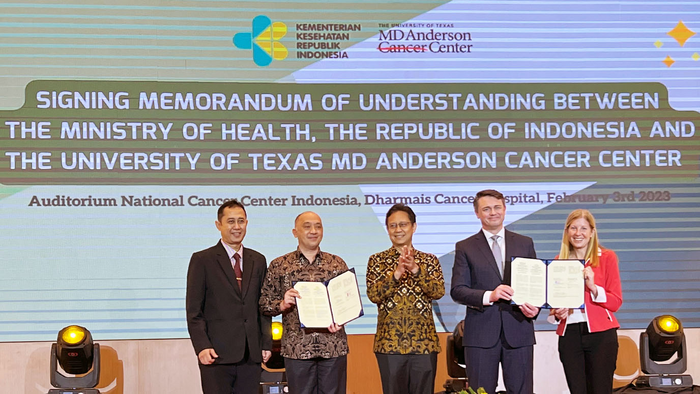 The University of Texas MD Anderson Cancer Center has announced the expansion of its global oncology efforts through a new agreement with the Ministry of Health of the Republic of Indonesia. This relationship builds on MD Anderson's efforts to share best practices in cancer education, prevention, research and treatment to reduce the burden of cancer worldwide.
"It is vital for us to build relationships in countries where we can work collaboratively to improve the quality of cancer care and to lessen the impact of cancer on individuals and families worldwide," said Peter WT Pisters, M.D., president of MD Anderson. "MD Anderson's mission to end cancer has no borders, and we know that working closely with others who share our goal will bring us closer to Making Cancer History®."
MD Anderson Cancer Network advances the institution's mission to eliminate cancer by collaborating with local hospitals and health systems in Texas, the nation and the world to improve the quality and accessibility of cancer care and research. As part of its Global Oncology program, a collective approach to end cancer in low- and middle-income countries, the institution collaborates with governments and mission-aligned organizations to advance cancer education, training, public policy and research initiatives. In October, MD Anderson and the World Health Organization (WHO) announced an international collaboration to reduce the global burden of women's cancers, including breast and cervical cancers.
These efforts align with World Cancer Day, Feb. 4, and its mission to reduce the global impact of cancer. World Cancer Day raises awareness for cancer issues worldwide. This year's theme, "Close the Care Gap," focuses on uniting our voices and taking action to recognize, understand and address inequities in cancer care around the globe.
"MD Anderson is committed to addressing cancer disparities and inequities worldwide in pursuit of our mission through strong local and global alliances and innovative collaborations, including those with WHO, Mozambique and now Indonesia," said Welela Tereffe, M.D., chief medical executive at MD Anderson. "We are excited to work together to make meaningful impacts against cancer."
New collaboration with Indonesia to improve care, education and research
MD Anderson's new agreement with Indonesia's Ministry of Health establishes a cooperative relationship for the advancement of cancer care/services, cancer education/training and cancer research. MD Anderson will support these efforts through cancer control planning and implementation, including assisting with the development of national cancer control guidelines and strategies for implementation, and support of training, education and capacity building through the Project ECHO telementoring model.
Project ECHO is a teleconsulting and telementoring partnership between MD Anderson specialists and providers in rural and underserved communities in coordination with the ECHO Institute at the University of New Mexico.
Through this new collaboration, MD Anderson experts will have the opportunity to make an impact at the population level by working with the network of 144 government hospitals located throughout Indonesia's 17,000 islands. Dharmais National Cancer Center in West Jakarta serves as the hub for cancer care, supervising cancer services at hospitals throughout the Indonesian provinces.
Indonesia is the world's largest archipelagic country and fourth most populous country. Cancer is the fourth leading cause of death for its citizens, according to the WHO, with nearly 397,000 people diagnosed with cancer in 2020. The majority of cancer cases in the country present at advanced stages due to lack of cancer prevention education, a small population of trained oncologists and the challenging geographical landscape.
"We are honored to collaborate with the Indonesian Ministry of Health and to work with the Dharmais National Cancer Center and the ECHO Institute to improve cancer prevention, early detection and treatment," said Kathleen Schmeler, M.D., executive director of Global Oncology and professor of Gynecologic Oncology and Reproductive Medicine. "Our team at MD Anderson looks forward to working closely with our Indonesian colleagues in addressing the global burden of cancer."