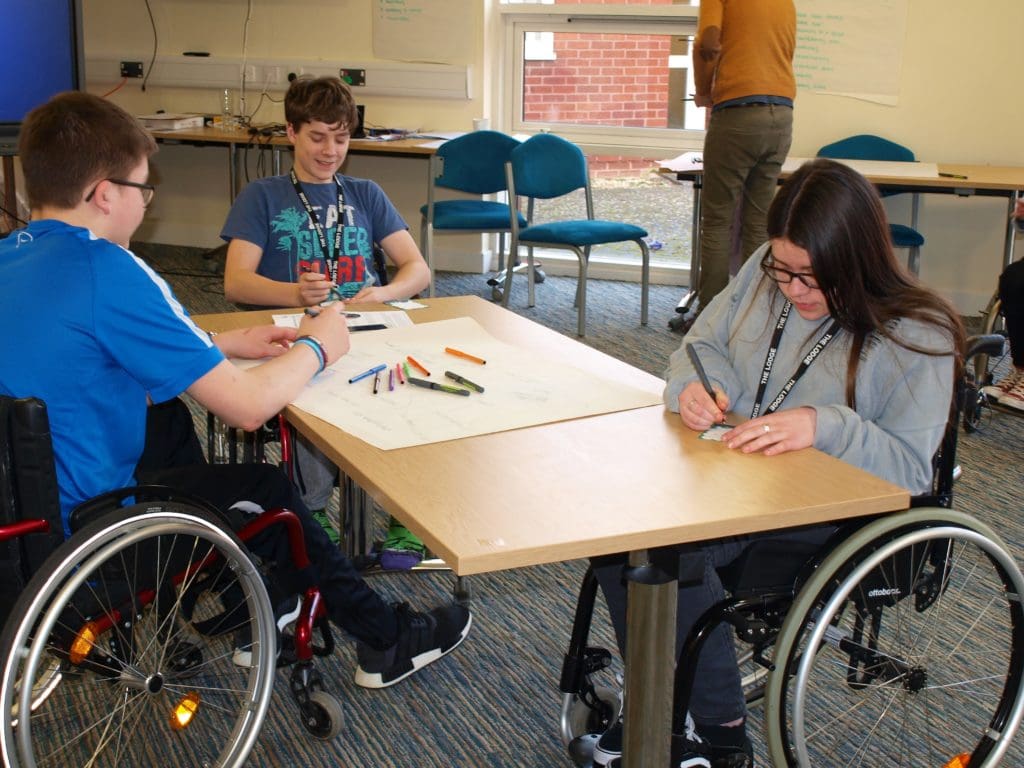 Results of a cohort study led by experts from four Spinal Cord Injury Model Systems (SCIMS) centers show that clinicians who completed remote wheelchair-skills training not only gained knowledge of wheelchair skills but were more confident in training their peers. If implemented in clinical settings, remote training could prepare multiple cohorts to train wheelchair users, improving their ability to participate in community settings and boosting their quality of life.
The article, "Efficacy of a Remote Train-the-Trainer Model for Wheelchair SkillsTraining Administered by Clinicians: A Cohort Study with Pre- vs. Post-Training Comparisons" (doi: 10.1016/j.apmr.2021.03.042) was published in Archives of Physical Medicine and Rehabilitation on June 3, 2021. This article is the result of a collaborative project lead by Lynn A. Worobey, PhD, DPT (lead author) and Michael L. Boninger, MD, of University of Pittsburgh School of Medicine and Veterans Affairs Pittsburgh Healthcare System. Trevor A. Dyson-Hudson, MD, of Kessler Foundation co-authored this article with Mary Shea, OTR/L, ATP, of Kessler Institute of Rehabilitation, and other colleagues at the collaborating SCIMS centers, including R. Lee Kirby, MD, of Dalhousie University; Rachel E. Cowan, PhD, of University of Alabama; Allen W. Heinemann, PhD, of Northwestern University and Shirley Ryan AbilityLab; and Jessica Presperin Pedersen, OTR/L, of Shirley Ryan AbilityLab. Dr. Dyson-Hudson also has an academic appointment at Rutgers New Jersey Medical School.
Despite ample evidence demonstrating that wheelchair-skills training helps people use their wheelchairs more effectively and safely, such training has setbacks: it remains limited in duration, is often limited to basic skills, does not cover real-world skills that many users face (such as curb negotiation), and is often not based on validated training methods.
One barrier to the implementation of comprehensive wheelchair-skills training is a lack of healthcare professionals who are equipped to provide wheelchair-skills training. Recent studies led by the World Health Organization demonstrated that remote training is effective in preparing healthcare professionals to train wheelchair users, but these studies did not evaluate whether newly trained professionals were able to train their peers.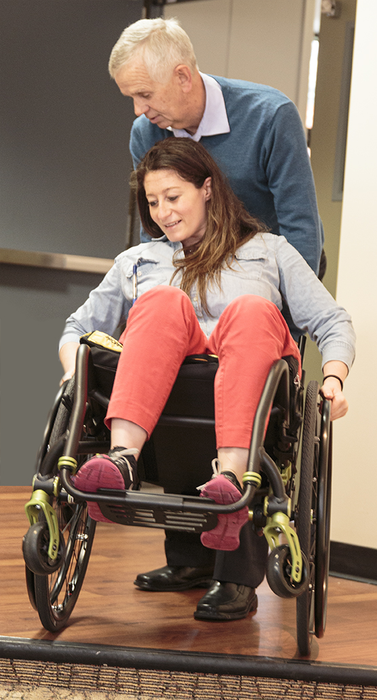 In this cohort study, a team of researchers used pre- versus post-training comparisons to evaluate whether remote training improves the confidence of wheelchair-skills trainers and, when these trainers train other healthcare professionals, whether the wheelchair-skills capacity and confidence of the trainees improves.
Seven participants—none of whom had prior experience using a wheelchair—completed a two-part remote asynchronous training program. Part 1 focused on skill acquisition including reviewing the Wheelchair Skills Program Manual, viewing instructional video-recordings, paired practice of the skills, and remote asynchronous feedback from a content expert on videos of their skill performance.
Part 2 was novel to this study and included six train-the-trainer video modules on how to assess, train, and spot for four skills that were selected due to high demand for teaching them in a clinical setting: how to get over an obstacle, ascend a low curb, ascend a high curb with caregiver assistance, and perform a stationary wheelie.
After completing the training program, each trainer was paired with two or three trainees—who also had no prior experience using a wheelchair—and provided one-to-one in-person training to each trainee.
"The results showed that after remote training, trainers were more confident in their ability to teach, and their trainees were more confident in their wheelchair skills," said Dr. Worobey. "This demonstrates that the 'train-the-trainer' model is effective: remotely trained trainers can transmit their learning to a subsequent generation of trainees."
She continued, "The trainee capacity and confidence scores relating to the four high-demand wheelchair skills also increased significantly with remote training. This means that more people can quickly and easily become capable of teaching wheelchair users to navigate curbs and other real-world spaces, empowering them to get out and interact with their communities."
Dr. Dyson-Hudson added, "People often use the term "wheelchair bound"; however, as someone living with spinal cord injury, I'm not "bound" by my wheelchair. My wheelchair gives me freedom of movement that I wouldn't have without it. Wheelchair skills training provided by a knowledgeable trainer improved my ability to use my wheelchair and gave me the confidence to go out into my community even when it wasn't fully accessible."