NIH-funded trial of Moderna mRNA vaccine is first of any for COVID-19
On March 16, 2020, Kaiser Permanente Washington Health Research Institute (KPWHRI) gave the first-ever injection of an investigational vaccine for the 2019 novel coronavirus, SARS-CoV-2, to 4 volunteers participating in a phase I federally sponsored clinical trial.
To date, no other trial has been launched in people of any vaccine for this virus, which causes COVID-19. The KPWHRI trial in Seattle began recruiting participants on March 3.
"We are proud that the National Institute of Allergy and Infectious Diseases (NIAID) selected us to conduct this innovative trial," said Lisa Jackson, MD, MPH, senior investigator at KPWHRI. "We're well prepared and focused on helping to address this evolving health situation." Dr. Jackson is the lead researcher for the study, funded by the U.S. National Institutes of Health.
"Finding a safe and effective vaccine to prevent infection with SARS-CoV-2 is an urgent public health priority," said NIAID Director Anthony S. Fauci, M.D. in a NIAID news release. "This Phase 1 study, launched in record speed, is an important first step toward achieving that goal."
The investigational vaccine is called mRNA-1273 and made by Moderna. The vaccine is made using a new process that is much faster than older methods of making vaccines. It does not contain any part of the actual coronavirus and cannot cause infection. Instead, it includes a short segment of messenger RNA that is made in a lab.
The trial is still enrolling
Study participants must be healthy Seattle-area adults age 18 to 55 years. To be eligible, they can't have certain health conditions that affect the immune system, and they can't be taking medications that affect the immune system.
The initial trial is a small "phase I" test involving 45 participants—part of a 3-phase process examining the potential vaccine. In this first phase, KPWHRI researchers are testing the safety of various doses and whether these doses produce an immune response. Phase I trials don't study the effectiveness of the vaccine in preventing coronavirus infection. That work comes at a later phase of the vaccine research.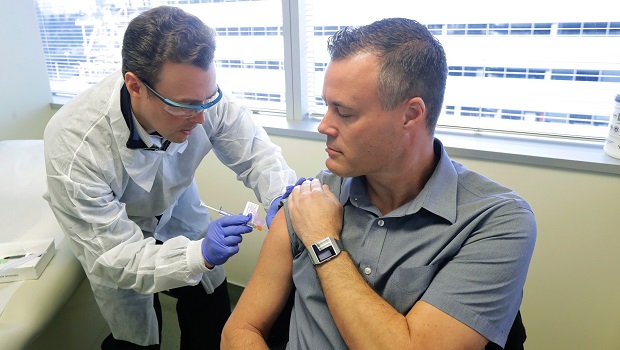 KPWHRI's path to this important role
KPWHRI's vaccine research team began preparations for the possibility of a trial as soon as they got the call on January 28. The team has expertise in conducting these kinds of trials, including testing other investigational vaccines against "swine" and "bird" flu. KPWHRI became a VTEU site in 2007, and it is the only one of the nation's 9 VTEU centers not housed at a university medical center. Since 1962, the VTEUs have played a key role in developing new and improved vaccines and therapies against infectious diseases.
Currently there is no vaccine proven to protect against SARS-CoV-2 infection. A vaccine is urgently needed for several important reasons:
The large number of people infected
The ability of the virus to spread from person to person
The spread of the virus across so many geographic areas

What should people do if they are interested in participating?
People who are age 18-55, live or work in the Seattle area, and think they might want to be part of this study, are invited to visit corona.kpwashingtonresearch.org.
The story is by Rebecca Hughes. It was updated March 16 from the original version published March 4.