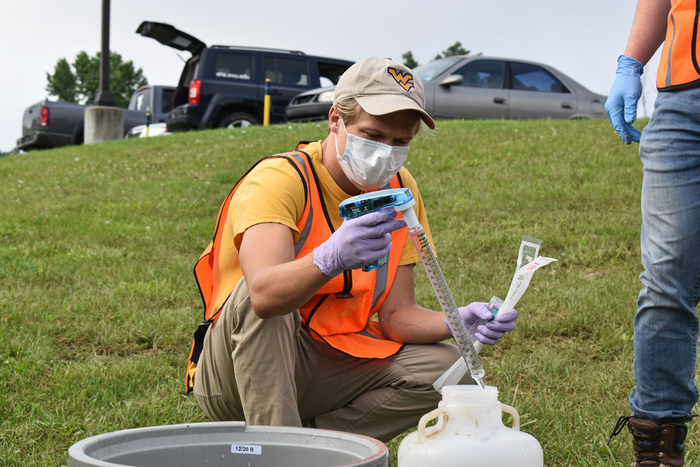 Just like the COVID-19 virus itself, the means of monitoring and testing for it in wastewater have evolved into a new beast more than a year later.
In 2020, West Virginia University (WVU) researchers would prop open a manhole cover, dip down a bottle to collect wastewater and then take it to a lab to analyze for the presence of SARS-CoV-2 (infected people shed virus particles through their feces).
With the new academic year, researchers have resumed on-campus sampling. And these days, they use an egg-shaped robot called an autosampler that lurks in the sewers and collects samples every 20 minutes over a 24-hour period.
It's part of a $2.9 million statewide project geared at developing a testing network throughout West Virginia and identifying communities of concern for COVID-19. The project, supported by the U.S. Centers for Disease Control and Prevention and the West Virginia Department of Health and Human Resources, will monitor sewage at more than 50 wastewater plants, in addition to high-risk congregant settings like college campuses, around the state.
A year ago, Timothy Driscoll, project leader and associate professor of biology, and his team were sampling around 15 sites on campus. Last September, they started testing at a local wastewater treatment plant to see if it was feasible to test and monitor on a larger scale to inform public health officials. It worked, and now those efforts have expanded.
"The scope is different now," Driscoll said. "We'll still test at the building level but now we're shifting more toward the communities at-large."
From a lab perspective, the testing process has trimmed down from 16 hours to six hours, he said, thanks to a new pathogen testing laboratory in the biology department.
"We're using a totally new process to concentrate viral particles out of wastewater," Driscoll said. "It uses magnetic beads that stick to the viral particles. Then you just remove all the liquid, and you are left with just virus stuck to the beads."
This is already proving useful: several sites have shown recent increases in COVID-19, corresponding with the arrival of the delta variant to West Virginia. That information is helping public health officials respond appropriately, Driscoll said.
The new process also poses the possibility to test for influenza, RSV, HIV and other viruses. It isn't limited to infectious diseases, either. Scientists can also use it to watch for signs of antibiotic-resistance genes.
"Our team hopes to expand upon the initial wastewater testing infrastructure to include other conditions of importance to West Virginia," said Brian Hendricks, an assistant professor of epidemiology and biostatistics in the School of Public Health, a project co-investigator
"We strongly believe that wastewater surveillance is a very important part of public health, but it requires tools that often involve complex methods that may not be available in the state laboratories but are available at many universities such as ours," said Gordon Smith, another team member and the Stuart M. and Joyce N. Robbins Distinguished Professor in the School of Public Health. "The work we are doing is a perfect example of collaboration of a land-grant university—with its mission to serve the state—and the people of the state. We've got the scientific expertise to do the testing, interpret the results and work with the state to put it into practice."
Emily Garner, project co-investigator and assistant professor of civil and environmental engineering, is leading the field sampling.
By using the autosamplers, researchers have the ability to program them to collect wastewater at certain intervals, she said. They settled on every 20 minutes.
"That gives us a great chance of getting a good distribution of what the wastewater looks like throughout the day," Garner said. "For many wastewater treatment plants, they already collect samples that might be valuable for this testing, so we can leverage those efforts. But in some cases, plants may not have the right equipment or permitting for frequent sampling. Then we'd send some of these autosamplers out into those communities.
"Monitoring wastewater provides a powerful opportunity to gain an early indicator of changes in community level spread of COVID-19," she added. "Through this project, we will work to develop a testing network throughout West Virginia aimed at improving the utility of this approach as an early warning system for COVID-19 outbreaks in rural communities."
The official name of the project is WaTCH-WV (Wastewater Testing for Community Health in West Virginia). Collaborators with Marshall University are also conducting testing in the Huntington area.