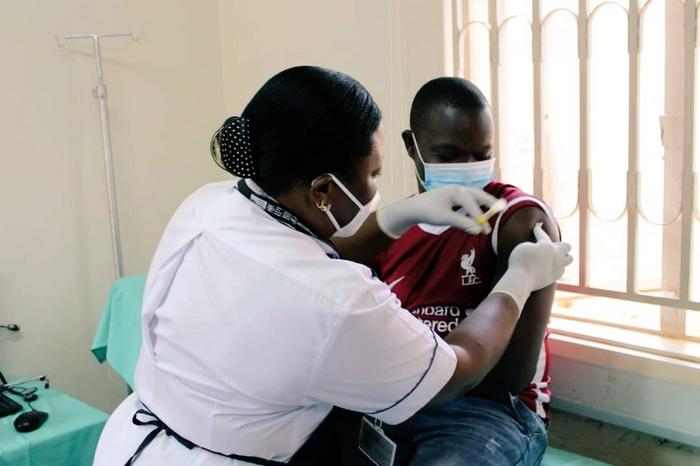 Investigators have announced the completion of participant enrolments into the PrEPVacc trial at all four sites in East and Southern Africa. Led by African researchers, PrEPVacc is the first HIV vaccine efficacy trial to be conducted in East African countries and it is the only HIV vaccine efficacy trial being conducted in the world at present.
PrEPVacc is testing two different ways to prevent HIV, at the same time, which includes HIV vaccine regimens against a placebo (saline), and a new form of oral pre-exposure prophylaxis (PrEP) against the existing standard for PrEP.
Enrolment targets were achieved by all sites and enrolment concluded in March 2023. They began in December 2020 in Masaka, Uganda; in July 2021 in Mbeya, Tanzania; and in September 2021 in Dar es Salaam, Tanzania and in Durban, South Africa.
PrEPVacc's Trial Director Dr Eugene Ruzagira, based at the MRC/UVRI & LSHTM Uganda Research Unit in Uganda said:
"Our profound thanks are due to all of the PrEPVacc study participants whose commitment is helping to move the field of HIV prevention forward both for their country and for the world. We are truly grateful to each of them, and to all the community members and supporters, friends and family who are behind them."
"Congratulations to all the PrEPVacc teams on reaching their enrolment targets for the trial. They have worked hard and skilfully through very challenging periods during the COVID-19 pandemic in order to successfully and safely reach this point."
During the recruitment and enrolment phase, an animated video version of the participant information sheet was used to explain the study to participants. 
"As we move into the post-recruitment phase there are still many participant study visits ahead during 2023 and into 2024. I urge everyone involved in PrEPVacc to remain committed and engaged through all of the visits, helping to ensure we produce the clearest results from this study that we are capable of. The study is scheduled to disseminate its findings by December 2024. We have already shared outcomes of our social science work with relevant stakeholders and we are committed to sharing news about all results that emerge from PrEPVacc with the study participants and their communities first."
Participants are healthy adults aged 18-40 years who have voluntarily given full informed consent to take part in the PrEPVacc study, which has been approved by their site's Research Ethics Committee. Study data reported by the end of May 2023 showed that 2,215 potential participants were screened for enrolment, and 1,512 participants were subsequently enrolled. Of the enrolled participants, 1,504 had started vaccinations, 623 were still receiving vaccines, and 671 had completed their fourth vaccination (of four scheduled).
The Masaka and Durban sites have enrolled both men and women while the Mbeya and Dar es Salaam sites have enrolled only women. Across all sites, 13% of participants are men, and 87% are women.
Participants in PrEPVacc are strongly committed to the study. By the end of their contribution over 17 months after the first vaccine injection, they will have made at least 15 study visits.
Participants received injections of either one regimen combining DNA with a protein-based vaccine, or a regimen combining DNA, MVA and a protein-based vaccine, or a placebo (saline). They were all also offered study PrEP as Descovy or Truvada through to two weeks after the third injection, and thereafter as locally sourced PrEP equivalent to Truvada. They received information on how best to incorporate PrEP in combination prevention against HIV.
Due to the challenges of successfully recruiting and enrolling into a clinical trial during the COVID-19 pandemic, and supply challenges with the MVA vaccine, PrEPVacc's Investigators proposed a change to the randomisation of enrolled participants from 1:1:1 to 1:1 and discontinued enrolment to the MVA-combination vaccine arm in all sites by June 2022. Notwithstanding this change to enrolment, vaccinations and follow-ups have continued as planned in all arms. The trial minimum enrolment target was revised from 1,668 participants to 1,400, with encouragement to enrol beyond this in anticipation that some participants would miss their second or third vaccines and be excluded from the main vaccine analysis. The proposal was approved by PrEPVacc's independent governance committees.
PrEPVacc is not a licensure trial. Its findings will inform scientists as to whether developing either of the two different combination vaccine regimens for preventing HIV is worthwhile or not, even with the smaller sample size. If vaccine efficacy is shown, and the combination vaccine is safe, the result will need to be confirmed through a further trial or trials. PrEPVacc will also provide insights into PrEP adherence when needed for prevention and whether the new form of PrEP (Descovy) is as acceptable, safe and effective as the available oral standard PrEP (Truvada) among women.
The PrEPVacc trial was preceded by a preparedness study known as the "Registration Cohort" which gave research teams a better understanding of the community and HIV infection rates in the context of PrEP roll-out. During the Registration Cohort, sites developed a Community Advisory Board or Community Working Group whose members are local people who partner with the researchers and bring the concerns and interests of the community and study participants to the researchers. They also review study material to check that the language and messages used are simple and acceptable to their communities.
PrEPVacc is led by African researchers from Entebbe in Uganda, at the MRC/UVRI and LSHTM Uganda Research Unit. They are supported by 15 partner organisations, six from Africa, six from Europe and three from the US. The Sponsor of PrEPVacc is Imperial College London. See Notes to Editors (1) for a full list of partners.
The PrEPVacc study is funded by the European & Developing Countries Clinical Trials Partnership (EDCTP), as part of the EDCTP2 Programme supported by the European Union. See Notes to Editors (2) for a full list of funders.