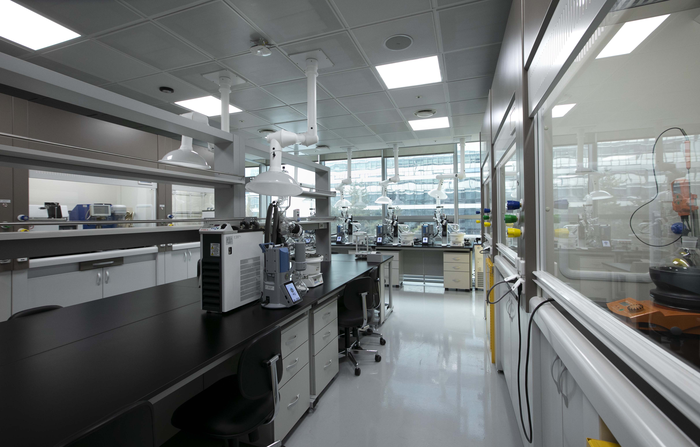 Standigm, the leading workflow artificial intelligence (AI) drug discovery company, announced today that the company had established a Synthetic Research Center in the headquarters of SK Chemicals Co., Ltd ("SK Chemicals", KRX 285130), a life science and green chemicals company.
Standigm has dramatically improved the R&D productivity of AI drug discovery process with its own standardized and automated AI technologies and now runs a total 42 of new drug candidate projects. One of these projects, which is about Standigm's AI-driven drug candidate for non-alcoholic steatohepatitis ("NASH"), is expected to enter a clinical research collaboration with SK Chemicals.
The establishment of the Synthetic Research Center will not only strengthen the company's research infrastructure to prepare the increase of new drug discovery projects, but also improve productivity in compound synthesis, which is the rate-determining step of AI drug discovery projects. As the Synthetic Research Center is located within SK Chemicals' Research Center, Standigm will jointly use various equipment and facilities owned by SK Chemicals.
"The establishment of the Synthetic Research Center will help us make our drug discovery process more efficient by covering a wide range of R&D processes of our research projects from compound design to synthesis," said Hanjo Kim, Head of the Standigm Synthesis Research Center. "The Standigm Synthesis Research Center differs from traditional pharmaceutical and chemical laboratories in that we have the unique way of organic synthesis research powered by our proprietary AI technologies," he added.
Standigm and SK Chemicals have been collaborating on several joint research projects using Standigm's AI platform since July 2019. They signed a strategic investment (SI) contract in June this year for the research collaboration on Standigm's NASH drug and the establishment of the Synthetic Research Center.
"We expect the Standigm's Synthetic Research Center in the headquarters of SK chemicals will help the two companies to work more closely together," said Soomin Lee, Leader of Open R&D Task Force (TF) Team, SK Chemicals. "We will continue to make efforts to promote the collaborative projects with Standigm successfully," he added.