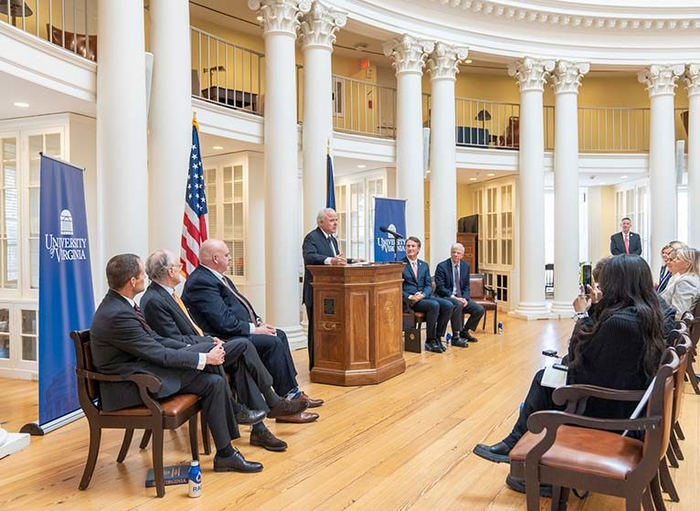 New Paul and Diane Manning Institute of Biotechnology positions UVA at forefront of cutting-edge, next-generation medicine
Will accelerate development of revolutionary cellular, gene therapies; nanotechnology; targeted drug delivery
Will ensure no Virginian needs to leave the state for complex care
Funding for the institute includes a $100 million gift from donors Paul and Diane Manning, $150 million from UVA, and a $50 million initial investment from the Commonwealth of Virginia
Will potentially generate thousands of jobs and power state's economy
Expected to attract biotech, pharmaceutical companies to new innovation "ecosystem" across central Virginia
The University of Virginia announced plans to launch a biotechnology institute that positions UVA at the very forefront of cutting-edge medicine such as cellular and gene therapies that revolutionize how diseases are treated and cured. The new institute is made possible in large part due to a $100 million gift from the couple after whom it will be named.
UVA's new Paul and Diane Manning Institute of Biotechnology will advance research in these areas for the benefit of patients everywhere and, closer to home, ensure that no Virginian needs to leave the state for even the most complex care. Paul Manning is the chairman and chief executive officer of PBM Capital, a healthcare-focused investment firm.
In addition to transforming healthcare delivery across the state, UVA's ambitious plans will significantly impact the economies of both Central Virginia and the entire Commonwealth. The Manning Institute is anticipated to generate hundreds of jobs directly, as well as potentially thousands indirectly. It is also anticipated to attract pharmaceutical and biotech companies to what is expected to become a major hub for research and manufacturing centered around UVA's new state-of-the-art biotech facility. The added economic impact is anticipated to be significant over the coming years.
In addition to the generous gift from Paul and Diane Manning, the first phase of the institute will be funded by a substantial initial investment of $50 million from the Commonwealth of Virginia and $150 million from UVA, for a total initial investment of $300 million.
"We live in an incredibly exciting time of discovery in medicine — and the Manning Institute will ensure UVA remains at the forefront of research and patient care," said University of Virginia President James E. Ryan. "Paul and Diane Manning's extraordinary gift will mean new treatments and therapies for the patients who need them most, and I'm immensely grateful for their generosity and vision. Importantly, this transformational investment in healthcare for Virginians was also made possible by critical support from Gov. Youngkin and key leaders in the General Assembly."
Gov. Glenn Youngkin hailed the institute as a major victory for the state's residents and its economy, noting that the economic impact will ripple outward for years to come.
"The announcement of the cutting-edge Paul and Diane Manning Institute of Biotechnology represents a critical step in Virginia's rise in the biotech industry," Youngkin said. "This major investment will help attract pharmaceutical companies to the Commonwealth and further my administration's commitment to develop a thriving healthcare system. I'm grateful for Paul and Diane Manning's generous commitment, which will ensure more Virginians are able to receive the care and treatment right here in the Commonwealth."
The Mannings are longtime supporters of UVA and UVA Health's research efforts. "Our goal is to have the best possible medicine – next-generation medicine – for the residents of Virginia and people around the globe," Paul Manning said. "We're building a world-class facility that will compete with anybody … in terms of research, manufacturing and treatment."
K. Craig Kent, MD, chief executive officer of UVA Health and UVA's executive vice president for health affairs, called the new institute a "historic milestone" for UVA Health that will fill a critical gap between the research bench and patients' bedsides. The new institute, he said, will accelerate medical research, speed new treatments to patients and advance UVA Health's mission to transform health and inspire hope for all Virginians and beyond.
"This is a translational research program unlike any that exists in the Commonwealth of Virginia," Kent said. "It is the beginning of an exciting new chapter for UVA Health that will produce concrete benefits for patients here in Virginia and everywhere."
The Paul and Diane Manning Institute of Biotechnology will help find new treatments and cures for even the most challenging and devastating diseases, including those for which we now lack effective treatments. Its foci will include cellular therapy, gene therapy, nanotechnology and drug delivery as well as other areas of focus that hold the potential to transform medicine as we know it.
The institute will allow UVA to capitalize on its existing strengths, such as immunotherapy, which supercharges the immune system to defeat diseases such as cancer, and nanotechnology, which aims to improve human health using tools far tinier than the width of a single human hair. Nanotechnology, for example, can be used to enhance drug delivery, so that a drug is delivered exactly where it is needed and not to cells where it might be harmful – true precision medicine.
In addition to accelerating such research, the new institute will allow UVA to expand its clinical trial offerings, making it possible for more people to access potential treatments as they are being developed – sometimes years before they become widely available.
The launch of the institute will also help UVA attract top talent and bolster funding for its research efforts. Ultimately, the institute is expected to generate an "ecosystem" of innovation, discovery, manufacturing and industry with benefits extending far beyond Charlottesville. They note, for example, that the development of the Research Triangle in North Carolina has attracted hundreds of companies there.
"The state's investment in the Paul and Diane Manning Institute of Biotechnology represents a bipartisan effort to provide the best healthcare possible for all Virginians while growing the state's economy, creating well-paying jobs and bolstering UVA Health's reputation as a world leader in cutting-edge biomedical research," said Del. Todd Gilbert, Speaker of Virginia's House of Delegates. "This is a real win for Virginia and its residents, and I'm happy we could come together in Richmond to help make this possible."
Del. Barry Knight, chairman of the House Appropriations Committee, said the institute will be an incubator for innovation and entrepreneurship across Virginia.
"The UVA Manning Institute of Biotechnology will have a huge impact very quickly but its influence and importance will continue to grow and multiply over the years to come," he said. "This is a long-term investment in making Virginia a premier biotechnology destination, and I'd like to congratulate UVA and Paul and Diane Manning for their transformative vision for what the state can be."
Sen. Dick Saslaw, Senate patron of the original legislation, said: "The Paul and Diane Manning Institute of Biotechnology is a great example of how support for an important initiative that will ultimately benefit all of our citizens can help propel the Commonwealth forward in the bioscience space – from discoveries, manufacturing and from a workforce perspective."
The centerpiece of the new institute will be a high-tech facility at Fontaine Research Park that will serve as the nerve center for biotechnology research, development and manufacturing at UVA. It will bring together under one roof the high-tech research facilities, state-of-the-art manufacturing capabilities and welcoming patient care space needed to accelerate the development and testing of new treatments and cures. Plans for the facility are under way, and additional details will be announced at a later date.
"In addition to the economic and patient-care benefits, the Paul and Diane Manning Institute of Biotechnology will be a huge boost to UVA's research mission," said Executive Vice President and Provost Ian Baucom, the University's chief academic officer. "This is the type of facility most universities can only dream of, and it will help us attract top talent and train the great biomedical innovators of the future."
The UVA Manning Institute of Biotechnology's aim is to produce "translational" research that directly benefits patients, reduces human suffering and provides better ways to prevent, treat and cure disease.
UVA's recent efforts in this area have led to life-changing innovations such as an "artificial pancreas" that automatically regulates blood sugar for patients with type 1 diabetes, freeing them from endless painful needlesticks, as well as the federal Food and Drug Administration's approval of a scalpel-free surgical approach that uses focused sound waves to treat a common movement disorder and Parkinson's disease symptoms. Using the focused ultrasound approach pioneered at UVA, appropriate patients can go into an MRI with their hand shaking uncontrollably and emerge with their ability to write and feed themselves restored.
Such innovations made University and state leaders eager to capitalize on the incredible biomedical potential in Charlottesville, and to provide exactly the right environment for it to flourish and grow, to the benefit of all of Virginia.
"The Paul and Diane Manning Institute of Biotechnology is one of the most exciting and impactful undertakings in the history of UVA," said Whittington Clement, rector of the University's Board of Visitors. "It will benefit the health and wellbeing of people here in the Commonwealth but also all around the world. It is the very definition of President Ryan's vision of UVA as a force for great and good."