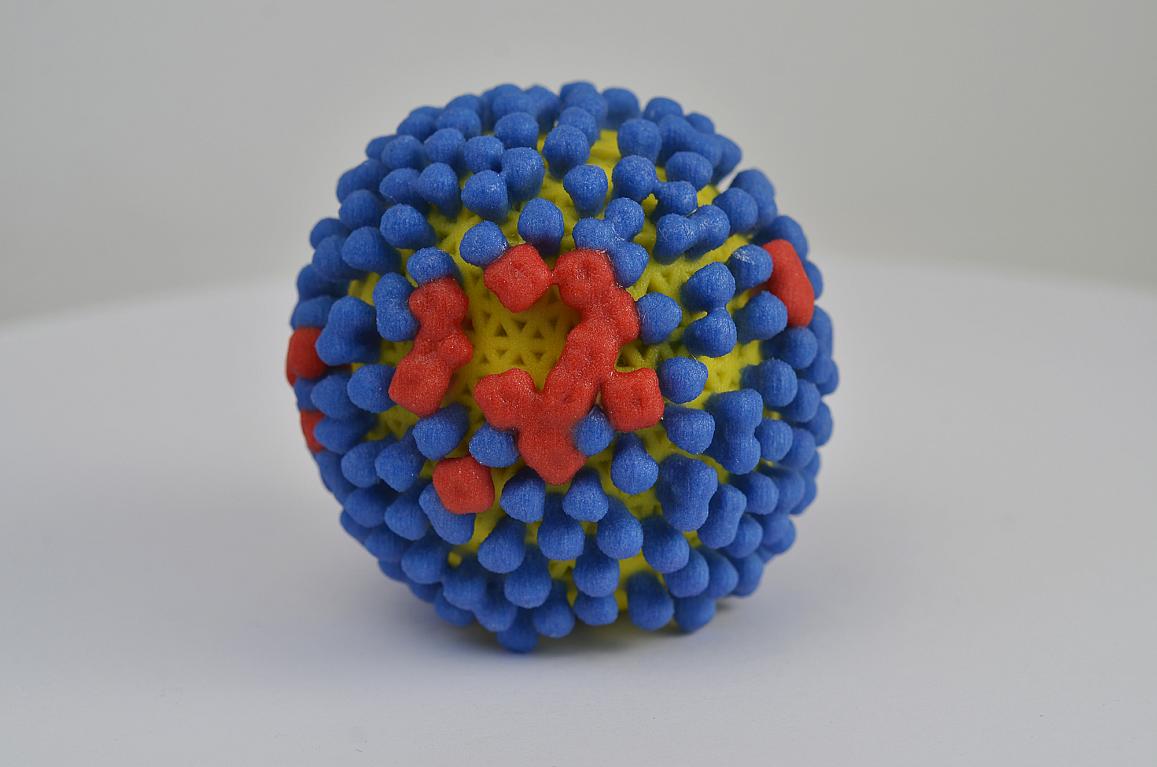 A Phase 2 clinical trial of an investigational universal influenza vaccine intended to protect against multiple strains of the virus has begun in the United States. The study is sponsored by the National Institute of Allergy and Infectious Diseases (NIAID) and is being conducted at four U.S. sites that are part of the NIAID-funded Vaccine and Treatment Evaluation Units (VTEUs). The trial is testing an experimental vaccine called M-001 for safety and its ability to produce potentially broad protective immune responses, both on its own and when followed by a standard, licensed seasonal influenza vaccine.
Influenza viruses mutate constantly, resulting in the emergence of viruses that may not always match those targeted by seasonal and pre-pandemic influenza vaccines. Seasonal influenza vaccines are made anew each year to match the strains predicted to circulate in the upcoming season. To receive the best protection against influenza, people must be vaccinated annually. However, if a particular influenza strain changes in an unanticipated way, or a different strain from that included in the vaccine spreads widely, the seasonal influenza vaccine may not be sufficiently protective. Each year, seasonal influenza sickens millions in the United States and results in 140,000 to 710,000 hospitalizations and between 12,000 and 56,000 deaths, according to the Centers for Disease Control and Prevention.
Influenza pandemics occur when a novel influenza strain for which people have little to no protection begins to spread among humans and present a greater public health threat than seasonal influenza. For example, the 1918 influenza pandemic killed at least 50 million people worldwide. An ideal universal influenza vaccine would provide durable protection for all age groups against multiple influenza strains, including those that might cause a pandemic.
"The 2017-2018 influenza season in the United States was among the worst of the last decade and serves as a reminder of the urgent need for a more effective and broadly protective influenza vaccine," said NIAID Director Anthony S. Fauci, M.D. "An effective universal influenza vaccine would lessen the public health burden of influenza, alleviate suffering and save lives. There are numerous paths of inquiry that the scientific community is pursuing, with each new study yielding more critical information and bringing us closer to our shared goal."
The new trial is being led by principal investigator Robert L. Atmar, M.D., of Baylor College of Medicine in Houston. The trial will test the M-001 vaccine candidate, developed and produced by BiondVax Pharmaceuticals based in Ness Ziona, Israel. The experimental M-001 vaccine contains antigenic peptide sequences shared among many different influenza viruses. Theoretically, it could protect against many current and emerging strains of influenza. Six previous clinical trials involving a total of 698 participants conducted by BiondVax in Israel and Europe indicated that the vaccine candidate was safe, well-tolerated and produced an immune response to a broad range of influenza strains.
The new study will enroll up to 120 healthy volunteers between the ages of 18 and 49 years. Participants will be assigned randomly to receive either two doses of the experimental vaccine or a placebo. They will be vaccinated twice, receiving one dose (1 mg; 0.4 milliliters) of M-001 or placebo via intramuscular injection on the first day and a second dose 22 days later. Approximately 172 days later, all participants will receive an approved seasonal influenza vaccine. During periodic additional clinic visits throughout the course of the study, blood will be drawn from study volunteers to evaluate their immune responses to both the experimental vaccine and to the seasonal vaccine. Each participant will be followed for approximately seven months.
The trial will take place at four NIAID-funded VTEUs. Patients will be enrolled at the Baylor College of Medicine; the University of Iowa in Iowa City; and Cincinnati Children's Hospital Medical Center. Laboratory support will be provided by Saint Louis University. For more information about the study, go to ClinicalTrials.gov, using the identifier NCT03058692.